On December 27, Huzhou's first batch of four self developed and manufactured hydrogen fuel cell urban buses officially rolled off at Huzhou Geely Farizon Auto Co., Ltd., and will be commissioned around the Spring Festival this year, inaugurating a brand new "hydrogen fuel era" for Huzhou's public transit service.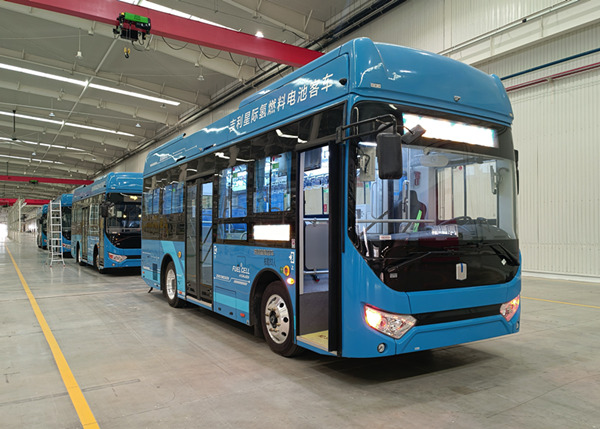 Source of picture: Huzhou News Comprehensive Channel
Developed and manufactured by Zhejiang Belord New Energy Co., Ltd., the hydrogen fuel cell systems of the buses boast of complete proprietary intellectual property, excellent comprehensive performance and industry leading technical achievement. And these systems are equipped with Sinosynergy fuel cell stacks.
According to Wu Zebin, Chief Designer of Zhejiang Belord, hydrogen fuel cell buses, in comparison with traditional ones, feature zero pollution, zero mission, low noise and easy operation. When compared with electric vehicles, hydrogen fuel cell buses take on average 5-10 minutes to top up, saving up to 60%-70% charging time, and the driving range is 50% longer than the similar vehicles. As buses, they are more advantageous in urban operation and energy saving.
The commissioning of hydrogen fuel cell buses can solve the problems of urban transit, energy shortage and external pollutions and meet the urban requirement to cut energy consumption and carbon emission.
As a leading enterprise in fuel cell industry, Sinosynergy assisted with the commercial operation of China's first fuel cell bus line in 2016 and exported China's first fuel cell buses in 2018. Huzhou is another important city that Sinosynergy has taken in its scenario of urban transit service. So far, over 1,000 fuel cell buses equipped with Sinosynergy products are running in many cities in China, providing people with green and clean transit service.
Sinosynergy, as an enterprise that has landed in Zhejiang, will make active use of its rich experience in the commercial operation of fuel cell products, and continue to coordinate with industrial partners to assist Huzhou in its construction of a modern ecologically civilized city with green mountains and clear waters.
Source of article: Huzhou News Comprehensive Channel