On December 20, Guangdong Shaoguan Iron and Steel Co., Ltd. (SISG) hosted a grand ceremony to mark the commissioning of hydrogen station in the industrial park and the launch of the first hydrogen heavy-duty trucks. Chen Shaorong, Deputy Secretary of the CPC Shaoguan Committee and Mayor of the Municipal People's Government, Lai Xiaomin, Senior Vice-president of Baowu Group Zhongnan Steel, Xie Qi, SISG Songshan Steel's Party Secretary and Chairman of Board, and Cai Fangwei, Senior Vice-president of Baowu Clean Energy Co., Ltd., attended the ceremony and delivered their speeches. Luo Xiaoqin, Standing member of the CPC Shaoguan Committee and Deputy Mayor of the Municipal People's Government, was also present at the ceremony, which was presided over by Baodi Guangdong's Party Secretary and General Manager Feng Guohui.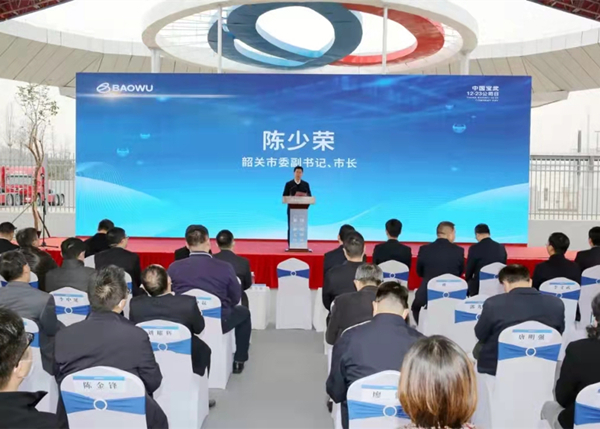 Chen Shaorong pointed out, the commissioning of hydrogen station and the launch of hydrogen heavy-duty trucks were new breakthroughs in the industry-city integration and transformation of this old industrial base of Shaoguan, new achievements in the pilot work of "factory to industrial park, production area to urban area" reform, and the start of the new march towards ecological, green, low-carbon development.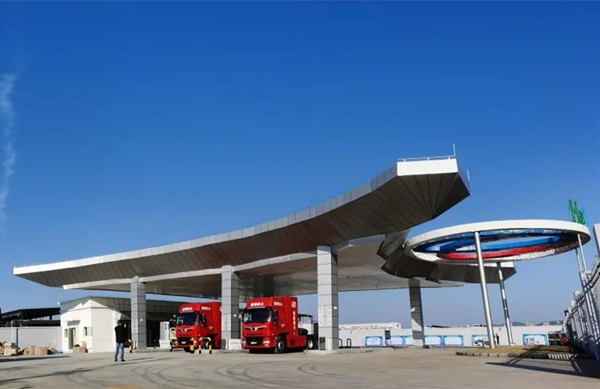 SISG Industrial Park Hydrogen Station, the Largest Hydrogen Station in China
Hydrogen heavy-duty trucks were launched during the onsite ceremony. The delivered 49t hydrogen fuel cell heavy-duty trucks are manufactured by Foshan Feichi Automobile Technology Co., Ltd., and are equipped with Sinosynergy's system products and vehicle control system, featuring high power, good economic effect, easy manipulation and safe operation. The commissioning of hydrogen heavy-duty trucks will play a positive role in SISG's energy saving, emission reduction and decarbonization of its supply chain.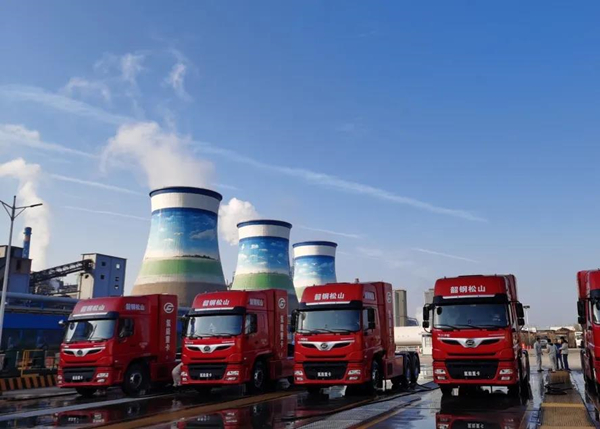 SISG Songshan Steel is the most competitive steel products and service provider in South China. As the most competitive production base of China Baowu Group in high-quality special steel long products, it enjoys core advantages in technological research and development and the integration of resources. In 2021, Baowu Group ranks 72 in Fortune 500 companies, the highest ranking for an ironworks in the world. The choice of SISG Songshan Steel signifies its full approval of Sinosynergy's excellent products and high recognition of Sinosynergy's rich experience in application scenarios.
As early as last July, Sinosynergy's products were already commissioned in HBIS Group, which ranks third in the world and second in China, boosting the operation of China's first marketized hydrogen heavy-duty transportation line.
Sinosynergy has always been committed to promoting the commercialization of China's fuel cell industry, and hydrogen heavy-duty trucks equipped with Sinosynergy's fuel cell products are put into demonstrative operation in such application scenarios as ironworks, ports and mines, etc., in Beijing, Shandong, Zhejiang, Hebei, Inner Mongolia, Guangdong and Shanxi. Sinosynergy's fuel cell products have maintained high consistency and stability in different scenarios and working conditions and their excellent comprehensive performance has won the approval of customers. So far, Sinosynergy's products have provided hydrogen power to nearly 5000 fuel cell vehicles in 34 cities of 16 provinces across the country, boosting the local construction of hydrogen industry system and accelerating their steps towards green development.
Hydrogen energy and fuel cell technologies are now China's strategic choice for energy transition as well as an important direction for the technological innovation of new energy commercial vehicles. Sinosynergy will partner with world top 2 steel groups on the common understanding of green development, and combine their advantages in resources of the two parties to create a new demonstration mode for fuel cell vehicles. In the future, Sinosynergy will continue to uphold the open and win-win concept, promote, through continuous technological innovation and high quality mass production, the commercial application of fuel cell technologies in road, rail, water transportation and distributed power generation, and cooperate with more industrial partners to build a complete hydrogen eco-sphere and paint a beautiful hydrogen blueprint.