Good News! The World's First Hydrogen Digital Rail Rubber-Tired Tramcar with Sinosynergy Participation Rolls Off
Release time:2021-12-20
Source:Guangdong Nation-Synergy Hydrogen Power Technology Co., Ltd.
On December 20, 2021, the "Dual-Area Linkage" for High Quality Development of Urban Functions & Ling-Gang Special Area Transit Construction and Operation Major Project Launching Ceremony took place in Shanghai Lin-Gang Special Area.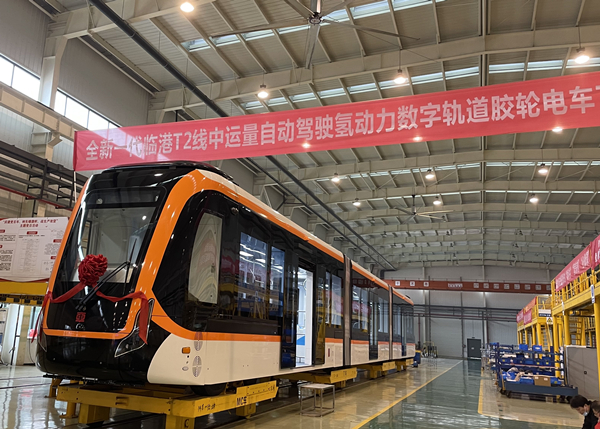 The new generation Lin-Gang T2 Line medium capacity autopilot hydrogen digital rail rubber-tired tramcar built by Digital Rail Technologies also made its debut on the occasion. This tramcar on tires is equipped with Sinosynergy's complete power system solution and two hydrogen power systems, ensuring an operational range of 100km at 15min top-up time. The tramcar has a drastically extended operational range and remains in conformity with the national development strategy of low carbon emission for environmental protection.
The Lin-Gang Special Area Medium Capacity T2 Line Project (Recent Phase) lies in the downtown area and is planned as an 8.7km medium capacity urban transit line. According to the plan, it will be completed and commissioned in the first quarter next year. Upon completion, T2 Line will be connected to T1 and T6 Lines so that various running routes can be scheduled to meet different transit needs.
According to the Execution Plan of Lin-Gang Special Area to Build High Quality Hydrogen Energy Demonstrative Application Scenarios (2021-2025), the Special Area has to promote green and low carbon development, build a hydrogen industry system and carry out green transit concept and public transit first development strategy. As an enterprise that has landed in Shanghai Lin-Gang Special Area, Sinosynergy will continue to cooperate with more industrial partners to explore pioneering and innovative technical development routes, contribute to Shanghai's construction of green economy, and pump powerful hydrogen energy into China's hydrogen energy and fuel cell industry and new energy vehicle industry for the high speed development.
Source link: 轨道运维、文汇报